All-in-One MP3 Software - MP3 Converter, Editor, Burner, Ripper, and Player Software

Blaze Media Pro is powerful all-in-one MP3 software, providing the capability of a MP3 converter, MP3 editor, MP3 burner, MP3 ripper, and MP3 player all in one software application. The software offers many advanced, yet easy to use, features for converting MP3 to WAV, WAV to MP3, WMA to MP3, MP3 to WMA, OGG to MP3, MP3 to OGG, and many more! Blaze Media Pro features an audio editor that can easy edit MP3 files in any bitrate, save to different bitrates, etc. The software's Burn Audio CD feature allows for quick and easy burning of MP3 files to CD-R or CD-RW media in record time. MP3 ripping is also available via the software's CD Tracks conversion feature. It can quickly rip tracks from CD, obtain track and disc information from the online CDDB, automatically name the saved MP3 files using the CDDB information, and automatically insert MP3 ID3 tags from the same information. For playback, the software offers complete playlist support as well as ID3 information display and much more for all your MP3 files. Blaze Media Pro offers all of this in one highly configurable application, making it the perfect choice for all-in-one MP3 software.
Click here for more information on Blaze Media Pro or download your copy now.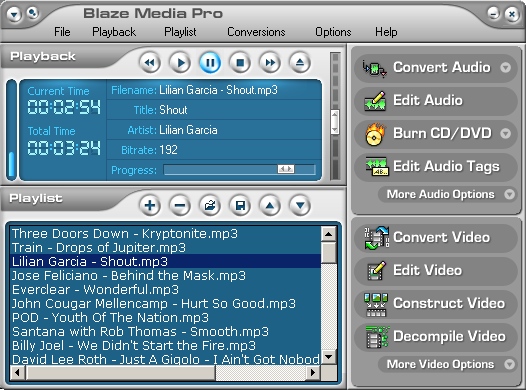 All-in-one MP3 Software Related Topics: MP3 Converter, MP3 Editor, MP3 Burner, MP3 Ripper