Compression AVI, MPEG, and WMV Video Files
Video Compression Software
The Blaze Media Pro software includes a powerful video converter feature that can be used to compress AVI, MPG (MPEG-1 and MPEG-2), WMV, MOV, Flash (FLV and SWF), iPod, PSP, 3GP, and more with ease. To use the software's video converter feature, click "Convert Video" from the main interface. From the resulting window, you can then choose the video files you wish to compress, select the output format, and the compression settings. Options are also available to compress to MPEG using VCD, SVCD, or DVD compliant settings; WMV using any desired compression profile; and AVI using any available audio and video compression codec. Once the files are present in your list, click the "Convert" button to begin the compression process. The software's video compressing process is performed in batch mode, which means that you can easily compress an entire list of video files with very little effort. The compression options are very customizable so that you can get the results you want for the file size / quality ratio.
When compressing into AVI, high quality/effective codecs such as DivX, XviD, or FFDShow can be used for video, and codecs such as MPEG Layer-3 and Windows Media Audio can be used for audio. For WMV, profiles are available for complete output control. If you need a smaller file size, select a lower bitrate profile, and if you need increased quality, select a higher bitrate profile. MPEG compression is handled in much the same way, with direct bitrate and resolution adjustment capabilities.
The video compression feature is very fast and easy to use. Advanced video compression options are available for those who want to take advantage of them, though they are completely optional, making Blaze Media Pro the perfect video compression software for users of any experience level. Click here for more information on Blaze Media Pro or download your copy now.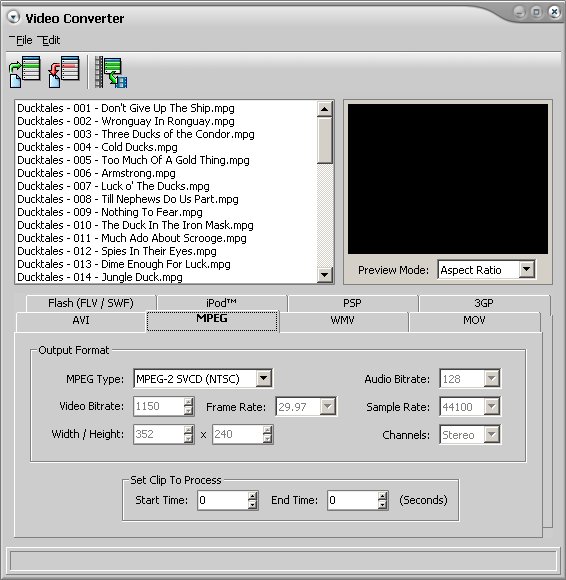 Video Compression Software Related Topics: AVI to MPG, AVI to WMV, MPEG-1 to MPEG-2, MPEG-2 to MPEG-1, MPG to AVI, MPG to WMV, WMV to AVI, WMV to MPG (MPEG-1 and MPEG-2), AVI Compressor, MPG (MPEG) Compressor, WMV Compressor, MOV Converter