Convert Video to Flash
Use Blaze Media Pro to convert most video files into Flash SWF and FLV formats. The Macromedia Flash (SWF) file format was designed to deliver vector graphics and animation over the Internet. You can also publish the video into a Flash for Video (FLV) file. The FLV file can then be used as part of a bigger project.
Blaze Media Pro can convert the following video file types into Flash:
To convert from one of these formats to Flash, follow these steps: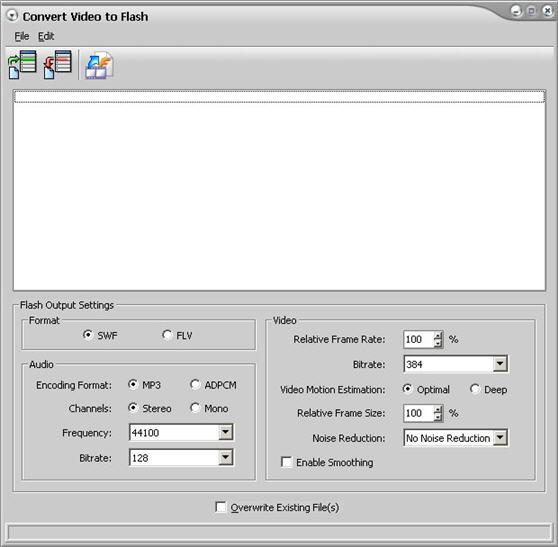 | | |
| --- | --- |
| 2. | Click Edit>Add or click the Add Files to List icon on the toolbar. |

Tip
Alternatively, you can simply drag the files and drop them onto the Convert Video to Flash window. If you choose this option, skip the following step and move to the next step.
| | |
| --- | --- |
| 3. | Select the video files you want to convert. |

Tip
| | |
| --- | --- |
| • | You can select more than one file by pressing the CTRL key while clicking the files or by holding down the SHIFT key and using the arrows to select a range of files. |
| | |
| --- | --- |
| • | To remove files from the list, select the files you want to remove. Select Remove from the Edit menu or click the Remove Files icon on the toolbar. |
| | |
| --- | --- |
| 4. | The files are processed as they are listed. If necessary, reorder the files by selecting a file and using the Move Up and Move Down options on the Edit menu. |
| | |
| --- | --- |
| 5. | Click either the SWF or the FLV button, and select the Audio options appropriate for your output. |
| | |
| --- | --- |
| 7. | At this point, you can decide whether or not to click the Overwrite Existing Files option. |
| | |
| --- | --- |
| 8. | To begin the conversion, click the Convert icon in the toolbar or click File>Convert in the File menu. |