Overview
Blaze Media Pro is a powerful, all-in-one, multimedia application supporting the following:
Supported Audio and Video File Formats
Blaze Media Pro supports all popular multimedia formats for playback including the following:
For video formats, the software provides advanced zooming and full-screen modes. You can easily resize the video window, a feature that allows for precise zoom adjustment. You can also adjust playback speed and position.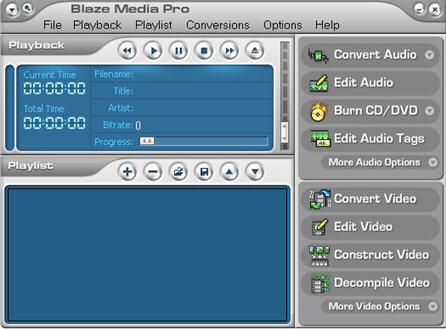 File Menu
When you click the File menu on the main window, you can access many features for managing audio and video files:

Tip
Playback Menu
The Playback menu contains standard controls for accessing your media. See the Playback topic for more details.
Playlist Menu
The Playlist menu gives you the ability to create your own symphony of favorite songs and videos for your listening and viewing pleasure. You can combine both audio and video files within the same playlist. Since Blaze Media Pro supports all popular formats, the creation of playlist(s) is limited only by your imagination. See the Playlist topic for more details.
Conversions Menu
When you click the Conversions menu, you can access easy-to-use, yet very powerful, features for converting one file type to another. Both audio and video formats can be converted. Click on the following supported conversion options to use the features:
Customizing Blaze Media Pro
Blaze Media Pro provides many options for customizing the program to suit your needs. Additional features include complete drag and drop support and a fully skinnable interface.
Getting Help
The Help menu displays many commands for getting additional support on how to use the software and contacting Mystik Media.

Important