SVCD Software Burner and Converter
SVCD Burning Software
Blaze Media Pro includes a powerful feature that can burn Super Video CD (SVCD) discs from MPEG-2 files with ease. To use the SVCD burner feature of the software, click the Conversions > Burn Video CD (VCD/SVCD) menu from the software's main window or select Burn Video CD (VCD / SVCD) from the Burn CD / DVD popup menu. From the resulting SVCD burner window, you can then choose the MPG video files you wish to burn.
Note: if you have AVI or WMV files that you want to burn to VCD, you can easily prepare them for burning using the software's Video Converter feature. Add the file(s) to the video converter feature's list, and select MPEG-2 with SVCD extensions. Once the conversion is complete, you can then add the new MPG file(s) to the Burn Video CD (VCD / SVCD) feature's file list.
With he files to burn present in your list, select the burner device you want to use, choose the SVCD burning mode, and click File > Burn Disc (or the Burn Disc toolbar icon) to burn the SVCD. The burning feature is very fast and easy to use. Advanced options are available for those who want to take advantage of them, though they are completely optional, making Blaze Media Pro the perfect SVCD software burner / MPEG converter for users of any experience level. Click here for more information on Blaze Media Pro or download your copy now.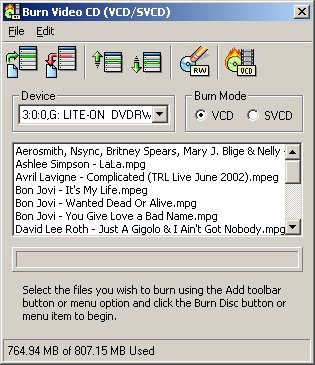 SVCD Burner Software Related Topics: VCD Burner, Audio CD Burner, CD Burner from MP3, CD Burner from WMA, CD Burner from WAV, CD Burner from OGG