Video Decompiler for AVI, MPG, and WMV
Powerful Video Decompiler Software for Windows
The Blaze Media Pro software includes a powerful, fast, and easy to use video decompiler feature that can extract frames from AVI, MPG, WMV, and ASF video files and save to image files with ease. To use the software's video decompiler feature, click "Decompile Video" from the main interface. From the resulting video decompiler window, you can add the video files you wish to decompile, select the desired output format, and save the video frames to individual image files. By default, all frames of the video are extracted and saved to image files. However, Blaze Media Pro can also easily extract only a certain range of frames, either by start and end frame number or start and end time. The dimensions for output frames can also be adjusted from the Frame Size tab. The software's direct video decompiler feature is available for MPEG-1, MPEG-2, AVI (uncompressed), AVI (compressed using any available codec), WMV, and ASF. Supported formats for image output include BMP, EMF, GIF, J2K, JPG, PCX, PNG, RAS, TGA, TIF, and WMF.
Additionally, the software's video editor feature can also be used to save individual video frames as image files. This is often more convenient when you only need to save a few frames. To use this option, open the Edit Video feature, load the video file, and then advance to the desired frame. Once positioned at the appropriate frame, simply use the Save Picture command from the video editor window's File menu.
The video decompiler is very fast and easy to use. Advanced options are available for those who want to take advantage of them, though they are completely optional, making Blaze Media Pro the perfect video decompiler software for users of any experience level. Click here for more information on the Blaze Media Pro software and its video editor features or download your copy now.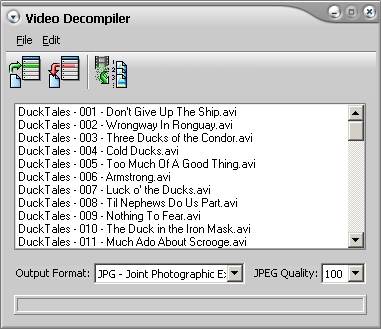 Video Decompiler Software Related Topics: Video Editor, Video Capture, Video Converter, MPEG Encoder, MPEG Decoder, AVI Editor, MPEG Editor, WMV Editor, AVI Converter, MPEG Converter, WMV Converter, DVD Burner, CD Burner, VCD Burner